Why Cruise: 25 Best Things About Cruise Vacations
Looking for a great vacation idea? Have you been on a cruise? Why cruise? Read all the best things about cruise ship vacations.
My husband and I have a love and hate relationship with cruising. Mostly love, evident of the fact that the last time we traveled was on a Celebrity cruise in the Southern Caribbean. While we do enjoy cruising, just like anything else in this world, it has its cons. However,  in this post, I'm going to focus on all the wonderful reasons we love to cruise.
Even in an almost post-Covid world, all these reasons have not changed.
It's not our #1 mode of travel, but it is an option we enjoy if it's the right cruise line, ship, and most importantly for us, the right itinerary. If you have been contemplating the idea of going on a cruise for the first time, this post may sway you to give it a chance.
A vacation on a cruise is a popular choice amongst couples, families, and even solo travelers. Just because cruising is in, it doesn't mean after everything that a cruise will fit your style of travel.
In order to help you figure out what a cruise is like, I thought I shared all the reasons why a cruise may be on your next vacation itinerary. Hopefully, you'll be thinking, "I want to go on a cruise", by the end of this post.
Disclosure: This post may contain affiliate links. If you decide to make a purchase from one of those links, we may get a commission at no extra cost to you. We appreciate your support.
Are cruises fun?
Yes! Cruises are so much fun. The ship is full of activities from the moment you wake up to when it's time to go to bed. That's not even including the time you're off the ship. Cruises are what you make of them. You can be as active as you want or you can relax as much as you want.
Is a cruise worth it?
Cruises are worth the value. From the moment you step on the ship to the end of your cruise vacation, you'll be fed well, entertained, and taken to some fabulous port destinations. It's a whole package that makes cruises worth it.
What are the benefits of a cruise?
There are a plethora of reasons and this post gives you 25 reasons why you should go on a cruise. However, one of the biggest benefits is that everything you need to have a great vacation by yourself, with your spouse, friend, and-or family can be found on a cruise ship… great food, bars, broadway-style shows, spas, pools, dancing, and so much more.
Why Go On a Cruise?
Here are the 25 best things about a cruise.
Cruises Are (almost) All-Inclusive
1. There is all you can eat dining
Why go on a cruise? As a fellow foodie to another foodie, the food alone is reason enough.
You will never starve on a cruise vacation. Breakfast, lunch, and dinner are included with your cruise fare.
There is almost always more than one location option to eat. That's not to say that every single food establishment to eat on the ship is included, some cost extra.
Believe me, the food is delicious! Of course, some cruise lines are better than others. We were thoroughly impressed by the buffet on the Celebrity Equinox. The food was divine, better than the main dining room. But then, I missed the 24-hour pub on the Norwegian ships.
Do you enjoy a drink or two or more? Some cruise lines will even include all-you-can-drink packages. You can also purchase these packages if they don't.
Cruise vs All-Inclusive Resort
What's the difference? We break down the key differences and similarities between cruise vacations and all-inclusive resort vacations. So you can plan the perfect getaway that fits your needs.
2. It's cost-effective
Sometimes it's easy to pay one lump sum for vacation and know everything is taken care of and included. It's actually a relief sometimes to know it's paid for and you really don't have to worry about anything else but perhaps flights and packing.
If you find an amazing cruise deal, even better! Select a last-minute cruise deal as they are sometimes the best finds, especially for interior cabins.
3. A cruise is a floating resort
Think about everything you have at your disposal on a cruise. A spa. A spool. A gym. Restaurants. Bars. Dance Clubs. Kids clubs. It's a floating resort.
When we want to just disappear somewhere, sit by the pool and relax, we look for all-inclusive. Sometimes that's on land, but most of the time we end up on a cruise.
Disconnected from the mainland, a cruise forces you to relax. You have nowhere to go until you dock. Why did you need this vacation? To relax? To get away from your environment? To eat? To do something different? Well, now you can do that.
Cruising Is An Explorers Dream
4. Explore a new destination
Do you love to explore new destinations? In a span of a week or two, a cruise ship will make multiple stops. On our favorite cruise, a 9-day Western Caribbean itinerary, we had a total of 6 port-of-calls. It was an adventure!
5. Make the most of your vacation time
Time off from work is precious and my list of places to visit around the world is at least a mile long. Many of us do not have the time to travel more than 1-2 times a year. With the right itinerary, cruising allows you to check off some of your bucket list items in a matter of days. You can hit Belize, Guatemala, and Mexico all in one week!
6. Discover places you probably never heard of
Discover new destinations that you never thought of visiting. This has happened to us a few times and we have added them to our other list of places to return for a longer stay.
Cruises Are Family Friendly
7. Cruises are for everyone
One of the best things about cruises is that they are all ages and for any happy occasion. Cruising is not only for single people and childless couples. Family cruises are more than just vacation time, it's a time to come together to maybe celebrate a birthday or even a big family reunion.
8. Cruises are for kids too
Kids love cruising. I say this because I see the excitement of the children on the ship ready to head on over to the pool or one of the slides. They also can't get enough of the unlimited ice cream in the buffet.
Many of the family-friendly cruise ships have waterslides, rock wall climbing, mini-golf, bowling, and plenty more. Some of the Royal Caribbean mega-ships even have carousels and some of the Norwegian Cruise Lines mega-ship even have go-karts.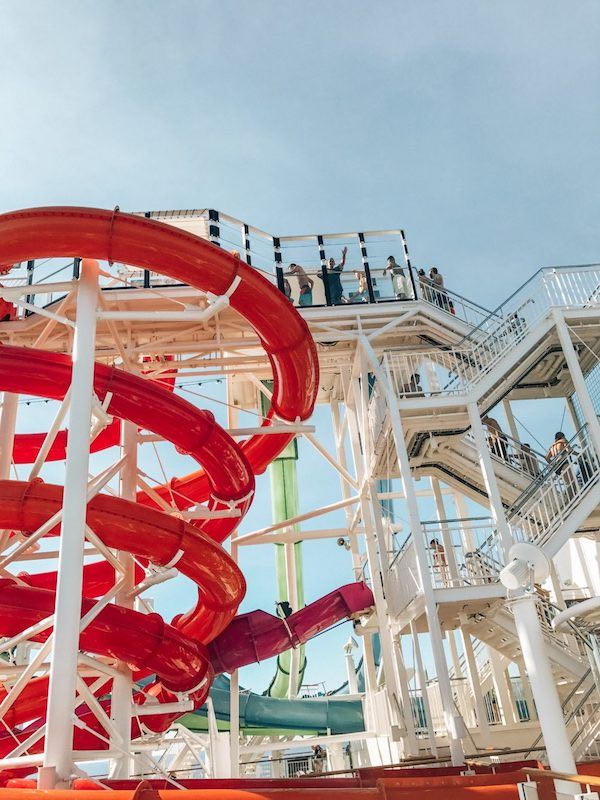 Parents, Kid's clubs are a real thing. You can drop your child off at the kids club during their working hours. There is a whole sign-in sign-out process you'll have to abide by for your child's safety, but you will be thanking the cruise on your off the ship for those wondering hours you got to have on your own.
There are a ton of activities for the children and they get to make friends with other children on the ship. I've witnessed children beg their parents to take them back to the Kid's club so they can be with their friends.
Research ahead of time and check if there are any special activities for you and your child that you may want to sign up for. For example, Breakfast with Dr. Seuss is only available on Carnival Cruise Lines (small extra charge). Do you like green eggs and ham? I ask because it's on the menu.
9. Cruises are great for group vacations
Cruises are great for family reunions. It's a great hub for groups to get together, bond, and be merry. They can dine together, or not. Some can plan to see a show together, while others head to the party by the pool. There is something for everyone!
Entertainment & Activities On A Cruise Ship Are Fun
10. Cruise fun is non-stop
Throughout your entire cruise activities will be planned from morning to night by the Cruise Director and his/her staff. A newsletter will be delivered every night to your cabin and will display all the activities taking place on the ship the next day. You may or may not want to join some of them. That is up to you.
Cruise Tip: Review the cruise ship's daily onboard newsletter. Mark what interests you. Don't be afraid to participate. You might make some great friends and/or make some great memories to share with us in the future.
Here are a few cruise ship activities you may find in the newsletter:
Morning Yoga or Zumba
Bingo
Trivia Games
Painting classes
Movie Times
Sport Challenges
Wine Tasting
Dance Instructions
Tea Time
Dining Times
Special Events
AA or LGTBQ Meetings
Single Meets
And more…
11. Visit the spa
Spa services are available. They are expensive, at least not in my budget, but every now and then it's a nice treat. I have friends that cruise just for the spa. If that's your thing, cruise on! A cruise vacation is a perfect time to pamper yourself. The gym and sauna are available to all guests.
12. Cruise casinos
Time to hit the casino and gamble! Then there are some cruisers that simply cruise to gamble. You may be one of them! If you gamble enough, they may comp your next cruise.
Make sure to sign up with the Casino Players Club on your first night. So far, we haven't hit it big on a cruise. However, I have a close friend every time she cruises, she hits a jackpot. Good luck!
*Please play responsibly.
How to Prepare for a Cruise
Ready to book your cruise, but not sure what to do before going on a cruise. We got you covered. See all the steps we recommend for a successful cruise experience.
13. Nightly shows
Broadway-quality shows. Actually, some ships have actual Broadway shows on their ships. On our Norwegian Getaway cruise, we watched Million Dollar Quartet, and it was outstanding! They can turn out to be a great experience.
There is always a comedy act you shouldn't miss. The Love & Marriage show is popular and on every cruise, I've ever been on. You might be lucky and get to enjoy a cover band for the Beatles, Michael Buble, or Frankie Vallie, just to name a few of my experiences.
14. Towel animals
Another one of the best things about cruises is towel animals. At the end of the night, you return to your room and you will find a towel animal just sitting on your bed. It's such a fun treat for everyone, no matter the age.
This has been a tradition and part of cruising for a long time. Sadly, cruise lines are starting to eliminate towel animals.
Norwegian cruise lines announced in mid-2019 announced they will gradually be phasing out towel animals at turn-down service to preserve water.
If it is important to you, you may request towel animals with your cabin attendant. Expect other lines to follow with time. On our last Celebrity cruise, we didn't get one towel animal.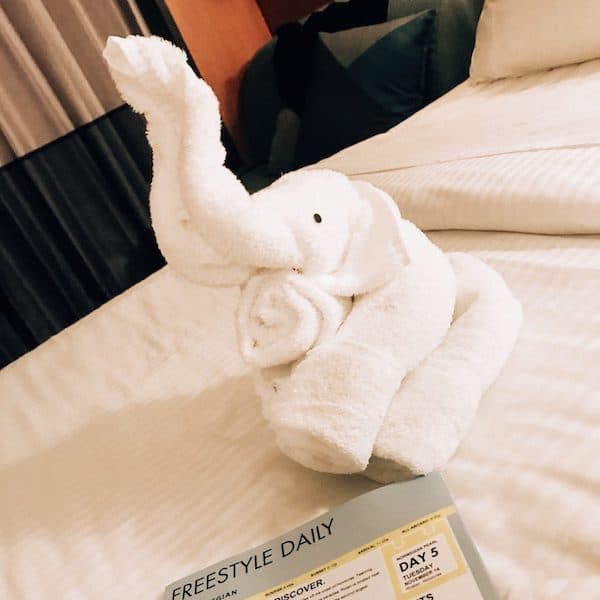 The Cruise Ship Food
I know I mentioned all-you-can-eat dining earlier, but it deserves the cruise ship food deserves to be one of the best things about cruises. Assuming that you love to eat like me, you'd agree this is a great reason why a cruise may be in your future.
15. You will be fed on a cruise
There is a reason why they call it "cruise weight". You leave the ship weighing more than when you got on it. And, there is nothing wrong with weighing a few pounds heavier! There is food available at every hour of the day. Enjoy!
16. More than a buffet
Not everyone loves buffet food. There is a sit-down service available for breakfast and dinner. Sometimes even for lunch. It all depends on the cruise ship.
At night, after a long day at port or sitting by the pool, we love to freshen up and head to one of the main dining rooms to eat. Menus change daily and you can order as many appetizers and entrees you think you can eat.
17. Specialty restaurants
The number of specialty restaurants and the kind of cuisines vary from cruise line to cruise line. Sometimes the minimal fee per person is low and worth trying a restaurant or two. The food can turn out to be of higher quality than the main dining room (not always) and you get a change of venue for the night. I've been pleasantly surprised by some of these restaurants.
18. Room service
Room service is included. What hotel do you ever stay in includes free room service?
Please note: there are a couple of cruise lines that have started to charge a small convenience fee for delivery outside of continental breakfast.
Cruise Tip: Order your morning coffee the night before through room service. Perhaps with a small bite. Let that morning coffee delivery be your wake-up call.
19. Dietary restrictions
Do not hesitate to cruise if you have certain dietary restrictions. Make it known ahead of time and they will prepare a special meal just for you. I have read great things about the lengths some of the chefs go to for their guests with special requests.
Fall or Winter Cruise?
Thinking of taking a cruise during the off-shoulder seasons? It's one of our favorite times of year to cruise. Read the pros and cons of cruising during the fall or winter.
On a Cruise, The Sea Calls To You
Maybe it's just me, but anytime I'm near the ocean, I swear it's calling my name. If you're a beach lover, you probably understand where I'm coming from.
20. The ocean breeze and saltwater
You will fall in love with the sound of the ocean currents, the smell of seawater, and the ocean breeze caressing your skin.
Don't tell me that you can do this from the safety of a beach, which you could, but it's not the same. Don't you want to be in the middle of the ocean surrounded by the Caribbean or the Mediterranean Sea?
21. Spot wildlife
Imagine yourself sitting on the balcony of your cabin or enjoying a drink at the Sunset bar at the aft of the ship, and suddenly a whale beaches not even 30 feet from the ship. Gasp! It does it again! Gasp.
Just like that this moment becomes the highlight of your trip.
Your chances of spotting sea life, like a whale or a dolphin are much higher while cruising than if you stay on land. The wonders of wildlife surprise cruisers all the time.
We personally can't say we've spotted any yet, but we always hear from other cruisers and see videos. I can attest to my emotional experience seeing pods of dolphins for the first time while sailing in Kauai, it is a highlight I'll never forget.
Wildlife cruises do exist and may be something to look into.
22. Spectacular views
Whether you're watching the sunset in the middle of the Caribbean ocean or cruising by a city's skyline, you can't beat the unique perspective you get from the ship.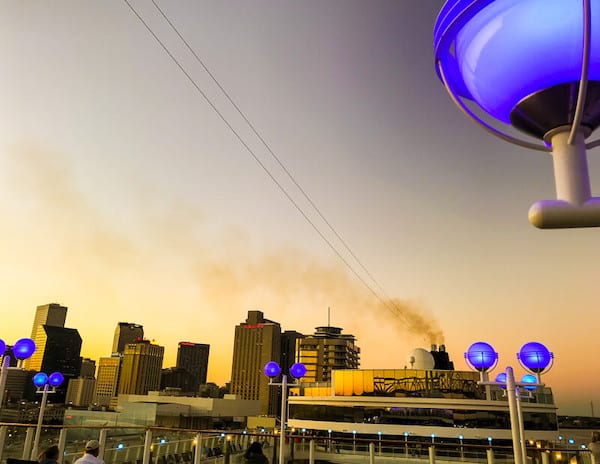 Cruise tip: Sailaway is a perfect opportunity to capture or just take in the unique view of the city skyline or island you're departing from.
A Cruise is a Worry-Free Vacation
23. Everything is at your disposal
Essentially, it's a worry-free vacation. Once you're on the ship, you can relax, enjoy and not worry. It's all at your fingertips.
24. No need to drag your luggage around
One of the best parts is you don't have to lug your luggage around from train to train, to hotel to hotel from city to city. You get to leave it behind while you go about enjoying your day.
25. You don't have to drive
Let the captain and crew steer the ship! They will expertly and safely transport you to the next destination while you enjoy the time on the ship. It's exciting to wake up in the morning and be in a new city.
Are you Ready to Book a Cruise Vacation?
If you do not have a travel agent, my #1 tip is to shop around. You can see what promotions the cruise lines are offering on their site and then compare them to other sites like Cruise Direct or with your travel agent. When you book with an agent, sometimes they are able to give you extra perks like onboard credit.
In the mood to be spontaneous? Don't be afraid to check out last-minute cruises.
Aren't these the best reasons to take a cruise? I hope this helps you decide why a cruise may be the right vacation for you and your family.
Why do you love to cruise? Let me know in the comments.
Don't forget to share the love on Pinterest: