Weighing the Pros and Cons of Cruises Before You Book
What are the pros and cons of cruises? Cruising is one of the most popular options when it comes to vacationing. While we cruise addicts sing its praises and how much we love it, cruising still has its faults. 
People are often drawn to cruises because of their all-inclusive nature – you can find anything you want on a cruise ship. However, this can also be a downfall, as it can be easy to get caught up in the value of it all and end up booking the wrong cruise altogether. In turn, ruining what could have been a relaxing and enjoyable cruise vacation.
We love to cruise. The pros outweigh the cons for us. Not only do we feel like we get so much value out of our cruises regarding food and accommodation, but the experiences we have onboard and at ports of call are often priceless. From amazing food to world-class entertainment and everything in between, cruises offer a lot.
But we understand that not everyone is the same. The cons may be enough for you to put you off from cruising. So, before you book your next cruise, consider the pros and cons of cruises.
You may not like the idea of sea days and being on a ship for days at a time (not all cruises have a long stretch of sea days). Or spending only a handful of hours at one destination at a time. Or having to share a small cabin with your kids for seven days means no private time.
Of course, every trip and vacation is a journey and what you make of it.
Disclosure: This post may contain affiliate links. If you decide to make a purchase from one of those links, we may get a commission at no extra cost to you. We appreciate your support.
We've put together a list of pros and cons of cruising to help you decide before you book your first or next cruise. Perhaps you already cruised once, and you're not sure if you want to cruise again. This list may help you make that decision.
Pros and Cons of Cruises
Pro: All-Inclusive Vacationing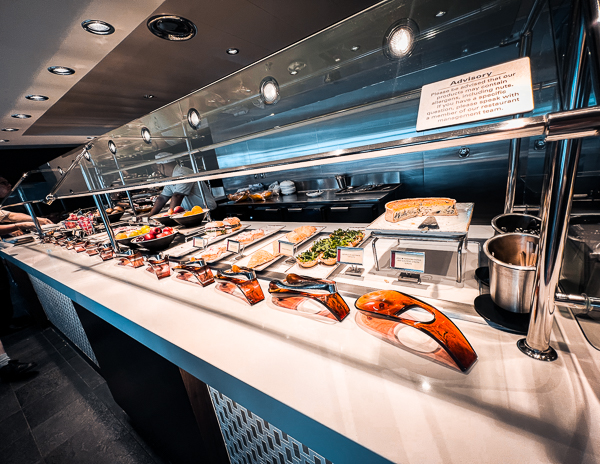 Cruises are considered all-inclusive because your cruise fare generally covers your accommodations, food, entertainment, and most activities. This can be a great value for families or groups because it's easy to stay within budget.
Con: Technically, There Are Some Upcharges
You have to be aware that while all the basics you need to have a wonderful vacation are included with your cruise fare, there are upcharges you may not know about.
Spa treatments, shore excursions, sodas, alcoholic drinks, and some specialty restaurants may come with an additional fee.
Let's not forget gratuities and tipping on a cruise.
Pros: Diverse Itinerary Options
There are now cruises to nearly every corner of the globe. You can find cruises that focus on specific regions, themes, or interests. You can go to the Caribbean, visit the Hawaiian Islands, see the glaciers in Alaska, island hopping in Greece, tour the Mediterranean, and so much more. The options are nearly limitless.
– Don't Miss: 10 Pros and Cons of a Fall Cruise and a Winter Cruise –
Con: You're On A Schedule
With a cruise, you're on a schedule. Your itinerary is mapped out before you book your cruise, and you only get a certain amount of time at each port of call. Depending on your preferences, this can be a pro or a con of cruising. A cruise may not be your best vacation option if you like to be spontaneous and go with the flow.
Pro: Something For Everyone
Cruise ships have come a long way in recent years, and they now offer something for everyone. There are cruises for families, singles, couples, groups of friends, adults only, and more.
You can find a cruise line that caters to your needs and interests.
Con: The Crowds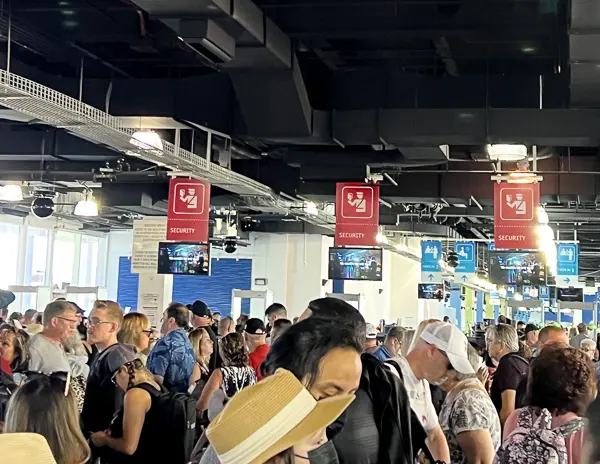 Sometimes ships can be overcrowded, and if there are not enough crew members on board, it can be easy to feel like you're just a number on a ship. This can ruin the relaxation you were hoping to experience on your cruise.
Do your research ahead of time to make sure you're booking a cruise on a ship that will provide the experience you're looking for. If crowds aren't your thing, perhaps stay away from mega-ships that have over 5,000 passengers on board.
You have to have patience on embarkation day and disembarkation day. But once you're on the ship, you forget about the lines to get on and off the ship.
Pro: You Can Unplug From Technology
A cruise can be a great option if you're looking to unplug from technology and disconnect from the world for a while. It forces you to relax and is one of the many reasons we love to cruise.
While most cruises now have Wi-Fi available (at an extra cost), you're not going to have cell service in most places. This can be a great opportunity to reconnect with your travel companions and relax on vacation.
Con: You Might Feel Restless
If you're used to being constantly connected and always on the go, a cruise might not be your best option. Yes, there are always activities on board and things to do on a cruise, but you have to ask yourself if you're ready to participate in those activities or just want to relax. The choice is yours.
25 Best Things About Cruise Vacations
Why you should go on a cruise? See our 25 reasons why a cruise vacation is one of the best vacations. Start your vacation planning and cruise planning today. Enjoy the benefits of cruising and exploring port destinations around the world.
Pro: No Everyday Responsibilities From Back Home
You don't have to worry about the usual responsibilities from home when you're on a cruise. There's no need to cook or clean, and you can forget about work and other obligations for a while. This can be a great way to relax and recharge.
Con: You Might Spend Too Much Money
Cruises can be a great value, but it's easy to overspend while you're on board. With so many activities, restaurants, and shops available, spending more money than you budgeted for can be tempting. Keeping on budget may be one of the few responsibilities you will have to worry about while on a cruise.
Pro: The Food Is Delicious & Plenty of It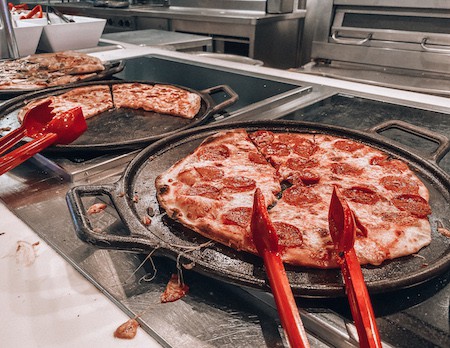 You will be well-fed on a cruise. There are usually several dining options, and the food is generally delicious.
Buffets are also available with a wide variety of food, so you're sure to find something to your taste. You can have multiple appetizers, entrees, and desserts in the main dining room. Not that you should waste food, but it's nice to sometimes try that extra dessert or appetizer without it costing you extra.
Con: You May Overeat
You may or may not find this a con, but it's worth mentioning. With so much food available, it can be easy to overeat while on a cruise. You might want to try everything.
If this is your only vacation of the year, remember that you only live once and enjoy. You can always get right back to routine once your cruise is over.
Pro: Plenty of Entertainment On Board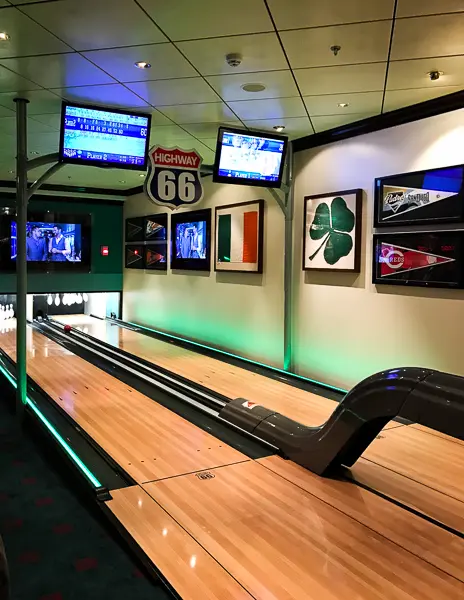 If you're looking for entertainment, cruises have plenty to offer. Most ships have live music, shows, movies, casinos, pools, and more. You can find something to do at any time of day or night.
Con: The Entertainment Might Not Be Great
The quality of the entertainment on board can vary from a cruise line and cruise ship Some cruises have amazing Broadway shows, while others might have cheesy performers or outdated equipment.
Do your research ahead of time to see what type of entertainment will be available on your cruise.
Pro: Shore Excursions at Every Port
One of the best things about cruises is that there are shore excursions available in every port. These excursions can be anything from city tours to beach days to hiking excursions. It is a great opportunity to explore the destination or participate in a local adventure.
Con: Shore Excursions Can Be Expensive
While shore excursions can be a great way to explore the port, they can also be expensive. If you're on a tight budget, you might want to skip the shore excursion and explore independently, depending on a port of call.
Cruise Tip: You don't have to do a shore excursion at every port. Perhaps some ports are do-it-yourselves while others are best to book a tour.
How to Plan a Shore Excursion
Planning and booking shore excursions for your cruise vacation? How do you book a shore excursion? What helpful cruise excursion tips will help you book and plan them independently? Helpful tips for booking shore excursions so you can save money, make the most of your time in your port destination and make amazing memories.
Pro: You're Surrounded By The Ocean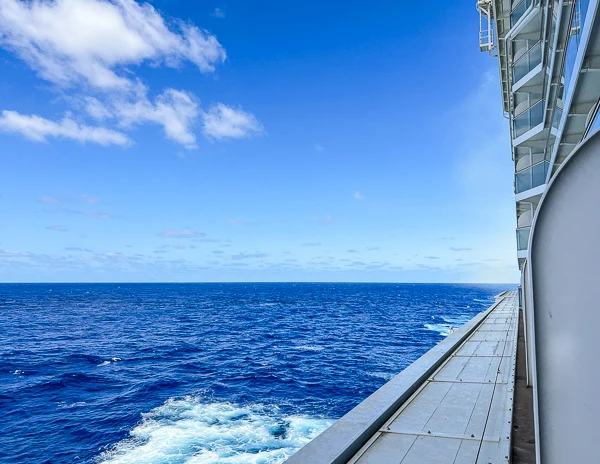 This one is self-explanatory, but being on a cruise ship surrounded by the ocean can be incredibly peaceful and relaxing. There's nothing like the sound of the waves and the fresh ocean breeze to help you forget your troubles back home. That sweet salty air ocean is proven to have relaxing properties.
Con: You Might Get Seasick
If you're prone to seasickness, you may want to think twice. While the vast majority of people don't experience any issues, there are always a few who do.
Although a few cruise lovers we are friends with still love cruising, even with the occasional seasickness.
Just be sure to pack a few aids to help with seasickness, such as ginger candy or wristbands that apply pressure to help relieve nausea. Some cruisers even start taking ginger pills three weeks before their cruise; however, you can discuss it further with your doctor.
Pro: You Can Meet New People
Meeting new people is one of the best reasons to travel, but it's especially easier on a cruise because you're cruising with the same group of people for consecutive days. You have the opportunity to meet people from all over the world and from all walks of life.
If you're a solo traveler, some cruises like Norwegian Cruise Line caters to solo travelers. There are plenty of activities and events specifically for solo travelers, such as meet-and-greets, cocktail parties, etc.
Many other group meetings throughout the cruise that give you the opportunity to meet new people outside of the regular cruise activities, like LGBTQ meetings, Friends of Bill, and others.
Also, joining a cruise roll call is a great way to connect with other cruisers before your trip. That way, you can start getting to know people before boarding the ship.
Con: You Might Not Meet Any New People
Of course, there is always a chance you won't meet any new people, or at least not anyone you click with. It can be easy to stick to your own group and not branch out. Just be sure to put yourself out there, and you'll be sure to meet some great new friends.
Pro: The Ship Has Almost Everything You Need
The cruise ship is like a floating city, and you can pretty much find anything you need on board. The bigger the ship, the more amenities, and activities are on board.
Need to buy some souvenirs? There's a gift shop. Need to get your hair done? There's a salon. Need to work out? There are a gym and fitness classes. You get the idea.
Con: The Cabins Are Small
The cabins on cruise ships are notoriously small. If you're used to staying in spacious hotel rooms, you might be disappointed with the size of your cabin.
And if you're sharing with your kids or more than just your partner, it can get cumbersome. You'll want to pack a few cruise essentials to organize your cabin better.
However, most people don't spend much time in their cabins, so it's not a big deal. Consider the cabin a place on the ship where you get to sleep and shower. The ship itself is the real star.
You also have the option to splurge and book a luxury suite.
122 Quick & Helpful Cruise Tips
We've gathered 122 of our top cruise tips and cruise hacks to help make your planning process smoother and your cruising experience even more fabulous.
What are the disadvantages of cruises?
The biggest disadvantage of cruises, depending on how you look at it, is that you're stuck on a ship for a certain period of time following its schedule.
What are the advantages of cruises?
The advantage of cruising is that it's an all-inclusive budget-friendly vacation. Your food, accommodation, and entertainment are included with your cruise fare.
Is it worth going on a cruise?
Whether or not a cruise is worth it is entirely up to the individual. Some people love cruising and can't imagine vacationing any other way. Others find it confining and prefer to explore different destinations on their own. The best way to figure out if cruising is for you is to take a short cruise to see if you like it. There's no harm in giving it a try.
How to Plan a Cruise Vacation
Planning a cruise can seem daunting, but if you take it one step at a time and follow these simple steps to plan a cruise, you'll have a fantastic cruise booked in no time.
Did these pros and cons of cruises help you decide whether a cruise is for you?
Cruising can be a great way to see the world, meet new people, and relax. However, cruising has some pros and cons of cruising to consider before booking your trip. Weigh the options and decide if cruising is right for you.
If you're a cruiser, what cruise pros and cons would you add to this list?
Need some inspiration? Check out: 55 Influential Cruise Quotes to Inspire Your Next Vacation
Don't forget to share the love on Pinterest:
You can also check out these helpful cruise articles:
How to Prepare for a Cruise
What Not to Pack for a Cruise?
What NOT to Wear on a Cruise
Cruise Clothes for Women
20 Tips for First-Time Cruisers