Marriott Sends Ambassador Members A Gift
Marriott's top tier Ambassador status requires earning 100 elite nights per year, all while spending $20,000. It's the only Marriott elite tier that has a revenue requirement. Well, Marriott has seemingly just sent out a gift to Ambassador members.
Gift cards for Marriott Ambassador members
Marriott Ambassador members should be receiving an email with some sort of a gift. It appears that:
US based Ambassador members are receiving a $100 voucher valid for any of Marriott's online hotel boutiques
Non-US based Ambassador members are receiving a $50 gift card valid for Marriott stays
For those in the US, Marriott has online stores for several brands where you can buy everything from candles to beds.
The voucher is valid for purchases through January 31, 2021, and there's no minimum spending required to take advantage of this. However, the stores do generally charge at least $20 for shipping — the credit can count towards that, in which case you'd want to spend ~$80 at most to get something for "free."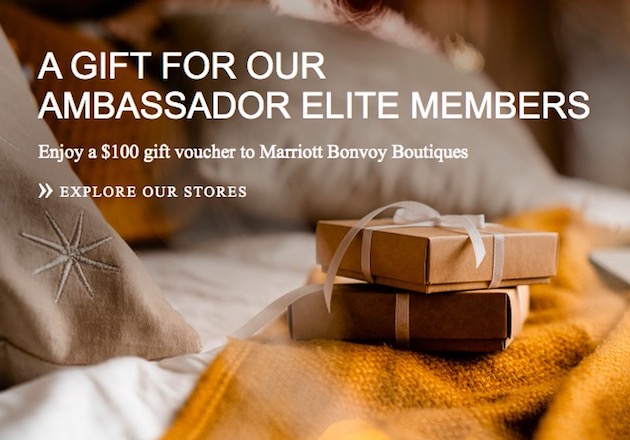 As the email to Ambassador members in the US reads:
The holidays are a time to reflect on all we are thankful for and in this trying year, we are especially grateful for you. As an Ambassador Elite member, your business and loyalty mean the world to us.

Please enjoy this $100 gift voucher* to Marriott Bonvoy Boutiques, where you'll find signature scents, luxurious linens, and curated amenities from your favorite hotels including The Ritz-Carlton®, St. Regis®, Westin®, and more. Simply use your Marriott Bonvoy member number on any of our U.S. retail sites during checkout to apply the credit.

Happy Holidays,
The Ambassador Service Team
I suppose this is a nice gesture, though in fairness, these boutique gift cards essentially seem to be an attempt to generate extra revenue, which is fair enough. This isn't like a $100 gift card for any Marriott hotel, which an Ambassador member would almost certainly use. Instead it's a gift card to a boutique, and clearly Marriott hopes people spend more than the $100 when they use it.
It reminds me of the "gift cards" that I occasionally get for having an American Express Platinum, valid at high-end businesses I've never heard of. Usually it's like a $250 gift card, which sounds great, until you realize the cheapest thing being sold costs significantly more than that.
Historically Marriott Ambassadors had sometimes sent out birthday gifts to members, but there hasn't consistently been a holiday gift.
Marriott's Ambassador conundrum
Historically the primary benefit of Ambassador status has been access to a dedicated Ambassador who provides personalized assistance. Back in March Marriott largely suspended that service (due to lack of travel), and in August Marriott even laid off quite a few Ambassador agents, presumably in an effort to cut costs.
I'm curious to see how Marriott approaches Ambassador status going forward:
While we've seen loyalty programs make it significantly easier to earn status this year, Marriott hasn't at all lowered the $20,000 requirement to earn Ambassador, despite reduced travel and reduced service for Ambassador members
Marriott has extended Ambassador status for existing members for a year
You'd think Marriott would want to give Platinum and Titanium members an incremental perk to stay with Marriott all while giving a reasonable goalpost for Ambassador status, but it doesn't seem like that has been a priority
Only time will tell if the program eventually returns to its original form, or what Marriott does with Ambassador status in the future.
Bottom line
Marriott Ambassador members should check their email for a gift from Marriott. It seems like members are in the US are getting a $100 boutique gift card, while others are getting a $50 gift card valid for stays.
If you're eligible for the $100 boutique gift card you might as well buy something with it, but don't spend money you wouldn't have otherwise spent to use this.
What do you think the future of the Marriott Ambassador program will look like? And to existing members, what gift did you receive, and will you use it?